In this section you will find a variety of downloads:
Download all
templates and identity assets
here
, or download what you need below.
PRINT TEMPLATES ON CANVA
Most of our print and digital templates exist in Canva, an easy-to-use online design platform. Our Enterprise Canva account contains branded assets and templates for print and digital communications.
If you do not have an enterprise account, please visit our Canva information page to get started.
PRESENTATION TEMPLATES
The UC Davis branded PowerPoint Templates make it easy to create a presentation that is on-brand in a familiar platform. We will be expanding our presentation template offerings in the near future.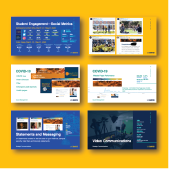 Download the UC Davis Presentation Templates
There are two templates available: UC Davis PowerPoint Classic and UC Davis PowerPoint Water Tower. Classic is the most versatile, having many pre-built master pages with different color configurations. If you have a simpler presentation, Water Tower is a beautiful template that will create a very consistent look with less variety than Classic.
Either template can be used for any type of presentation.
The download folder also contains assets for backgrounds like watercolor treatments and Steven Noble brand illustrations.
UC Davis Letterhead in MS Word
Our full line of stationery offerings is available through AggiePrint at Repro Graphics. Visit our stationery page for a comprehensive preview of options and styles.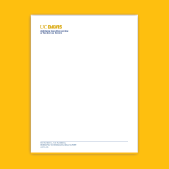 Download Universal UC Davis Letterhead
The Universal Letterhead can be customized with your unit or office name at top and with your contact information at the bottom. Please use the set margins for a clean layout. When customizing the fields, please do not alter the paragraph and font settings.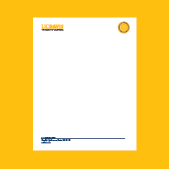 Download UC Davis Letterhead With Seal*
The UC Davis Letterhead With Seal can be customized with your contact information at the bottom. Please use the set margins for a clean layout. When customizing the fields, please do not alter the paragraph and font settings.
*Using letterhead bearing the UC Davis unofficial seal.
Aggie Blue, Aggie Gold and the UC Davis wordmark are the essence of the UC Davis visual program. Used sparingly, these assets create an experience that carries the brand with elegance and sophistication.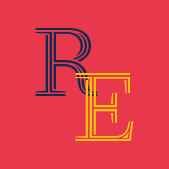 Ryman Eco
Ryman Eco is no longer distributed by Ryman Stationery so we are making it available for download here.
Find information on downloading our other campus fonts, Proxima Nova and Freight Text Pro on our
main fonts page
.
Design Elements
In addition to our marks, fonts and colors, we have brand-specific graphic assets that lend depth and flexibility to our visual program. These include type treatments (called settings), linework, illustrations and watercolor brushstrokes.
Please review usage guidelines and restrictions for the UC Davis Design Elements here.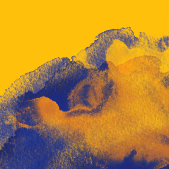 Watercolor Brushstrokes
Our collection of brushstrokes is intended for the more advanced designer. They work best when used with blending options like Overlay, Hard Light and Multiply. We have only provided a few here to get you started, with more options and guidelines to come.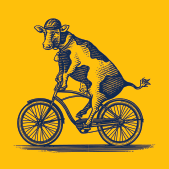 Steven Noble Illustration Collection
Our illustrator, Steven Noble, is a world-renowned artist whose distinctive work can be found on food products, books, credit cards and more. A UC Davis alum, Noble has lent his considerable talent to the task of illustrating some of our most unique and iconic properties.
Campus Collection
Customize your Zoom experience, desktop and mobile device with UC Davis branded assets.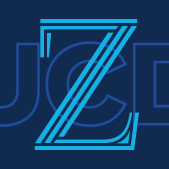 UC Davis Zoom Backgrounds
Created as part of our early response to the COVID-19 pandemic, these Zoom backgrounds lend branded sophistication to Zoom meetings in "the new normal."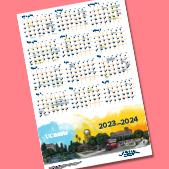 UC Davis 2023–24 Calendar
Organize your days with a branded poster calendar in PDF form.
Outgrow Collection
The Outgrow downloadable assets give your screens, Zoom meetings and workspace a UC Davis look. Feature them with pride.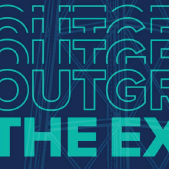 Outgrow Desktop Wallpaper
Give your desktop an "Outgrow the Expected" look with this collection of branded art.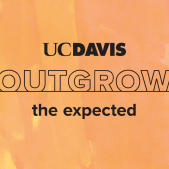 Outgrow Mobile Wallpaper
Outgrow the expected with branded art for your mobile devices.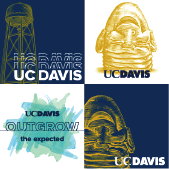 Outgrow Email Signature Stickers
With these stickers, even your email signature can be unexpected.
Find instructions for creating email signatures
here
.
Our Covid-19 response included a suite of branded elements to provide consistency across all related content and channels. The look and feel of the UC Davis Covid-19 assets lets your audience know they are in good hands.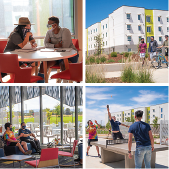 Brand Image Gallery
This curated set of photographs offers a consistent style with which we may visually depict the rich, full story of UC Davis. It is a look that's distinctly ours. The images are organized in four categories: people, place, details and "the Davis Difference."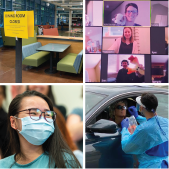 COVID-19 Image Gallery
Useful for stories about the ongoing pandemic, these images are snapshots of life and work as our world underwent massive change to address the challenges of COVID-19.